HAVE YOU BEEN FULLY PAID BY YOUR INSURER FOR ALL OF YOUR COVERED DAMAGES?
ALLOW US TO EVALUATE YOUR CLAIM SO THAT WE MAY ASSESS WHETHER YOU'VE BEEN PROPERLY COMPENSATED.
GET YOUR FREE CASE EVALUATION
DID YOU SUFFER A LOSS IN THE 2018 WILDFIRES?
WE USED TO WORK FOR THEM.
NOW LET US WORK FOR YOU.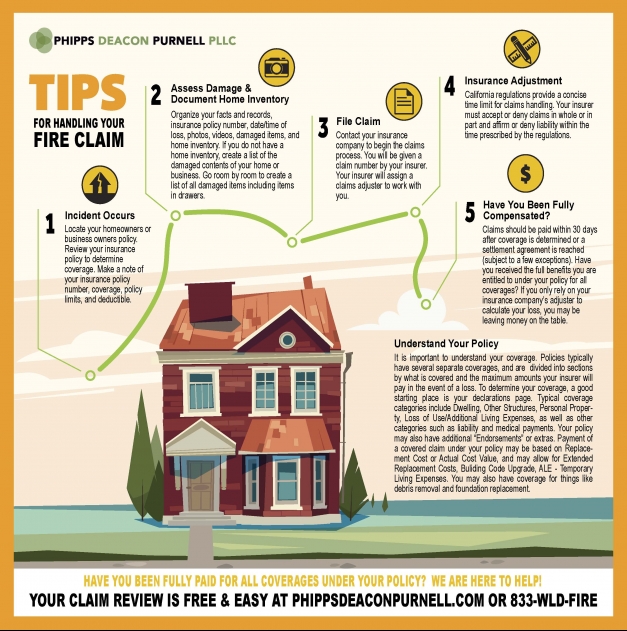 If your insurance claim is denied, delayed or underpaid, turn to the Phipps Deacon Purnell team for help. We understand how the insurance industry operates and we will work to ensure a fair and speedy outcome for your claim. There's nothing to lose, no fees or costs unless we win for you.
Our team has decades of previous experience working for insurance companies. We know the ins and outs. Now let us work for you.
OVER 100 YEARS OF INSURANCE DEFENSE EXPERIENCE
WE FIGHT BIG INSURANCE COMPANIES
Our team believes in fighting for the individual. We tirelessly fight for each and every client. When we take your case, you can truly consider us your attorneys. We will stand by you and your family throughout the entire process because we believe in helping our clients and in the integrity of the attorney-client relationship. We take each case very seriously and do everything in our power to get every client the best result possible and the maximum compensation.
HAVING TROUBLE GETTING THE PAYMENT YOU DESERVE FROM YOUR INSURANCE COMPANY? DON'T LET THEM TREAT YOU UNFAIRLY. LET THE PHIPPS DEACON PURNELL TEAM FIGHT FOR YOU.
Join more than 15,000 clients.
2019 Phipps Deacon Purnell PLLC. All Rights Reserved.
The information presented is not intended to be legal advice. Hiring an attorney is a serious matter and should not be based solely upon advertising. past performance is no guarantee of future results. In the absence of recovery, client is not liable for attorney fees or case expenses. The choice of a lawyer is important and should not be based solely upon advertisements. Please note that descriptions or references of past successes or prior results are not an indication or guarantee of future success or result, and are not an indication of likelihood for similar outcomes in other matters. Every case is different and must be judged on its own merits.
Phipps Deacon Purnell PLLC is responsible for the content of this page.
102 9th Street, San Antonio, Texas, 78215
210-340-9877